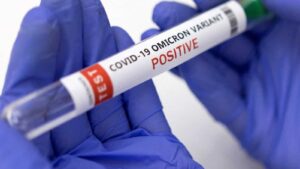 Omicron has proven to be more transmissible and less susceptible to vaccines than other coronavirus variants in just a few weeks since its discovery. But don't panic; here's everything you need to know about it.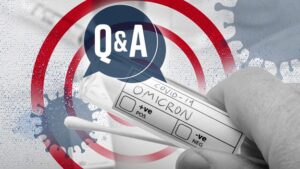 What is Omicron?
The Omicron variant, first discovered in Botswana and South Africa in November 2021, has spread around the world faster than any other known type of the coronavirus in recent weeks. While scientists are still learning about Omicron, the variant is already generating an increase in new cases, which could put some hospital systems at risk.
Omicron was initially identified by scientists thanks to a unique mix of more than 50 mutations. Some of these were found in earlier coronavirus types like Alpha and Beta, and prior research had shown that they may help a coronavirus spread quickly. Other alterations were reported to aid coronaviruses in evading vaccine-induced antibodies.
Omicron: Faster spread than other known variants
Omicron is proven to be two to three times as likely to spread as Delta. The earliest proof of Omicron's rapid spread came from South Africa, where it quickly rose to supremacy in province after province. Researchers in other nations have been able to catch Omicron earlier in its upswing, and the results are the same: Omicron cases double every two to four days, far faster than Delta cases.
Omicron is particularly good at infecting cells in the nose, according to a group of British scientists. People might release these viruses when they exhale through their noses. Omicron has also adapted to avoid antibodies produced by vaccines and prior infections.
Symptoms of Omicron
Preliminary data has revealed some symptom differences. One possible distinction is that Omicron may be less prone than previous variants to produce taste and smell loss.
In addition, patients infected by Omicron frequently experience a scratchy or painful throat, nasal congestion, a dry cough, and muscle pain, particularly low back pain. It is noticeable, too, that these symptoms highly overlap with those of Delta and of the original coronavirus.
Do vaccines and immunity from previous infections protect against Omicron?
Immunity to past infections may provide protection against severe disease, but unfortunately, it appears that it has minimal effect on Omicron infections. When Omicron spread across the United Kingdom, researchers discovered that many of those infected with the new type had already survived previous rounds of Covid outbreaks. The probability of reinfection with Omicron was predicted to be around five times higher than with other variations, according to the researchers.
On the brighter side, complete vaccination plus a booster dose provides strong protection against Omicron infection according to recent studies. In Britain, researchers found that a Pfizer-BioNTech booster had 75 percent effectiveness against Omicron infection.
In addition, vaccines significantly reduced the severity of Covid infections. In a major study of over a million Covid cases, British researchers discovered that those who had booster doses were 81 percent less likely to be admitted to the hospital than people who had not been vaccinated. Those who had received two doses of the vaccine had a 65 percent lower probability of being admitted to the hospital for Omicron cases.
Evidence from various research also suggests that Omicron infections are unable to get past the T-cell line of defense, which is strengthened by vaccines. T cells may make it more difficult for Omicron to go deep into the airway, where it might cause major disease, by destroying infected cells.
Haverhill Family Office is a primary care clinic that offers telehealth appointments if you feel that you have COVID-19 omicron symptoms. Schedule your appointment today.

Treatment for Omicron
The FDA approved Paxlovid and molnupiravir, two new antiviral pills for Covid, in late December of last year. According to preliminary tests, both therapies should be effective against Omicron. In the first few days after a diagnosis, people who are at high risk of developing severe Covid can be treated either medicine.
Another effective treatment is sotrovimab, a monoclonal antibody that binds to the Omicron variant and stops it infecting cells, produced by GSK and Vir.. Sotrovimab must be given as an infusion at a hospital or clinic, unlike Paxlovid and molnupiravir, which are packaged as pills.
Haverhill Family Office is conveniently located right across from Holy Family Hospital in Haverhill! We frequently see discharged patients from the hospital. Schedule your appointment today.